Welcome Message
With great pleasure and
honour
, Allied Academies extends you a warm welcome to attend the
International Webinar
on
Cardiology
, Heart Disease and Heart Failure
which will be held on December 11-12, 2020 in
.
Cardiology
2020 lays an excellent platform for
Cardiologists
, Researchers, Scientists, and Academics etc. within the field of
Cardiology
.
Cardiologist
a combination of various subjects with which we deal day to day life.
Our aim is to bring jointly the great minds to give talks that are research focused on a wide choice of topics to encourage learning, inspiration and provoke conversation that matters. This conference has been designed to provide an innovative and comprehensive overview of the latest research developments in all aspects of
Cardiology
.
The
Congress
will provide enough duration for one to one as well as for group discussions, to provide a close connect with speakers and attendees. Many renowned professionals of
Cardiology
will be a part of this
Congress
.
We hope that you will enjoy the Congress and that your interaction with your colleagues from different regions of the world will stimulate a productive exchange of innovative ideas.
Insights
We pleasantly invite you to be a part of the 'Webinar on Cardiology, Heart Disease and Heart Failure' on 11th – 12th December 2020 in Barcelona, Spain.
The milestone of the webinar
Cardiology 2020
will be the gathering of international experts and investigators to discuss the current situations and case studies, future innovations and improvements on the topic of
Heart Failure
and
Heart Diseases
. All the selected sessions will have sub-sessions which make the 3 days gathering more understandable and all the vital information will be discussed more or less.Since the
Cardiology 2020
is held for three days, the sessions will be on point which includes the topics of
cardiology
and related topics.
Significance and Scope
The main motto of this webinar is to spread the scientific and medicinal researches and ideas about Heart-related problems which include several disorders, among the world and get better ideas about it. We promote webinar such as
Cardiology 2020
to globalize the need for awareness about the cardiac conditions through international decisions and discussions which will create extraordinary solutions for the existing health problems related to heart and other related fields.
Cardiology 2020
also gives exciting business opportunities to the new market in the healthcare sector also promotes advanced devices and tool which can be used to reduce heart diseases occur in the world. Cardiac disorder is of different forms which make the need for medication a lot more presently.Thus this webinar
Cardiology 2020
will provide a great opportunity to deliberate all the important strategies and ongoing researches to reduce heart complications all over the world.
International Networking
Cardiology
is a vast topic and people are focusing on getting new ideas and development on the current methods to improvise the medications on
heart diseases
. This is the most incredible chance to achieve the international union of great individuals from different countries who are experts in
cardiology
and you can discuss your researches and innovations with intelligent minds through breakout sessions.
Cardiology 2020
will have experts from different fields, doctors, dietitians, nurses, physicians,pharmacists, academic researchers, and other healthcare professionals. They discuss heart complications and failure, consequences, and precautions.Also about the advanced technologies which help to minimize the heart disorders in people.
Entitlements
Keynote speakers and Session speakers

Young Research Forum (YRF)

Delegates

Research findings and proposals

Exhibition of innovative products and devices related to the

Cardiology 2020
Targeted Audience
Conference Awards

Cardiology 2020
is an international webinar and individuals are joining on getting new ideas and the expansion of the recent methods to manage the medications on
heart diseases
. This is the most incredible chance to achieve the international union of great individuals from different countries who are experts in Cardiology and can discuss the researches and innovations with intelligent minds through scientific sessions.
There will be different Awards to be given for the foremost talented attendees such as Best Key Note Speaker, Best Organising Committee Member, Best Speaker, Best Masters/Ph.D/PosdDoc Thesis work presentation, Best Poster Award. Poster presentation award is for the speakers who present their poster in an effective and understanding way with all the details. Best YRF award is for the young researchers who are delivering an excellent speech on the topic with all the content and pictures. The topic should be an interesting one and the way of delivering the information is also matters. Best OCM award is for the Organizing committee members who help and suggest their ideas to bring the conference at the top.
Cardiology 2020 will have professionals from diverse fields, doctors, dietitians,nurses, surgeons, pharmacologists, academic researchers, and other healthcare professionals. They discuss the heart diseases and their complications,consequences, and precautions. Also about the advanced technologies which help to minimize the heart conditions in people.

Abstract submission and Registration
For participating in
Cardiology 2020
you will have to submit the abstract of your interested area which comes under the sessions. Once the abstract is accepted by the organizing committee you can register for the conference.
Sessions/Tracks
Session 1: Cardiovascular Research
Cardiovascular research presents an occasion to contribute to the advancement of expertise and treatment for heart and vascular disease. Clinical research trials also may offer access to new drugs and interventions. Cardiac research creates hope and new treatments for a variety of heart and vascular conditions.




Current research topics include the following:
Current Research and Advances in Cardiology

Cardiac Arrhythmia Research

Cardiac Interventional Research

Cardiovascular Drug Studies

Cardiology - Future Medicine
Session 2: Case Studies in Cardiology
Case report is commonly an indication associated with numerous fields of cardiology that analyses various issues. Case reports on cardiac ports also have an acknowledgment of new diseases and treatment possibilities. disorders have a major impact and help in the growth and advancement of therapeutic strategies.
Session 3: Cardiovascular Diseases
Cardiovascular disease mentions conditions that incorporate limited or blocked blood vessels that can induce a heart attack, chest pain or stroke. Other heart conditions that control the heart's muscle, valves or beat, furthermore are perceived as types of heart disease. The symptoms of these diseases depend upon the type of heart disease and it may vary for men and women. Certain cardiovascular diseases are hereditary. Genes can come up with the risk of cardiovascular diseases in relatives. The other categories of cardiovascular diseases are triggered due to environmental factors. These types of diseases can be avoided by making modifications to an individual's lifestyle.It integrates conditions that influence the structures or capacity of your heart such as Coronary artery disease, Heart assault, Abnormal heart rhythms, or arrhythmias, Heart disappointment, Heart muscle disease, Pericardial disease, Aorta disease, Congenital heart disease, Heart valve disease and Marfan syndrome, Vascular disease.
Session 4:

Interventional Cardiology
Interventional Cardiology is an part of medicine within the subspecialty of cardiology that customs specialized imaging and supplementary diagnostic techniques to assess blood flow and pressure in the coronary arteries and compartments of the heart, as well as technical dealings and medications to treat abnormalities that weaken the function of the cardiovascular system.
Clinical problems normally controlled by interventional cardiologists include:
Coronary and Valvular Intervention

Percutaneous Coronary Intervention

Congenital Heart Abnormalities

Cardiovascular Surgery Procedures

Interventional Cardiac Devices
Session 5:

Cardio-Oncology
Cardio-oncology is the juncture of heart conditions in patients who have been cured for cancer. Cardiologists can evaluate patients for potential risk of acquiring heart conditions if patients take up particular types of cancer drugs or going after radiation treatment to the chest. They also assist oncologists to shield their patients throughout treatment by thoroughly observing the heart and identifying heart trouble early in medication.
Advanced Cancer Treatment
Session 6:

Pediatric Cardiology
Pediatrics Cardiology had certain expertise in analyzing and treating heart issues in children. In those kids who may necessitate heart surgery, pediatric cardiologists perform intimately with pediatric heart specialists to choose the best medications and interventions. Several heart conditions can impact kids. Some are auxiliary contrasts they are transported into the world with. Others comprise the electrical basis that monitors the heartbeat. Pediatric cardiologists are exceptionally prepared to analyze and pact with these issues.

Pediatric cardiologists generally treat congenital heart disease, arrhythmias, interruptions of circulatory system. The preliminary assessment completed by the pediatric cardiologist might begin with a physical assessment using a stethoscope, after which additional detailed investigations may be recommended.
Pediatric Cardiac Surgery
Pediatric Heart Transplant
Diagnostic and Therapeutic Approaches
Session 7: Cardiovascular Surgeries
Cardiac Surgery is the most familiar kind of heart medical practice for grown-ups is coronary artery bypass grafting (CABG). During CABG, a solid course or vein from the body is correlated to a blocked coronary (heart) artery. The merged supply route or vein sidesteps the clogged part of the coronary conduit. This creates another way for oxygen-rich blood to flow to the heart muscle. CABG can soothe chest torment and may depose the danger of getting a coronary failure. Surgery is suggested only under life-threatening situations. The major objective of cardiac surgery is to improve the lifespan of the patient by enhancing the function of the heart. These procedures are accomplished by cardiac or cardiothoracic surgeons.
Coronary Artery Bypass Graft (CABG) Surgery

Tran's Myocardial Revascularization and Valvular Surgery
Session 8:

Heart Disease in Women
Although heart disease may frequently be thought of as a challenge for men, heart disease is the highest popular cause of death for both women and men. One challenge is that certain heart disease symptoms in women may be distinct from those in men. Fortunately, women can take over steps to recognize their distinctive symptoms of heart disease and to commence to lower their risk of heart disease. Women's symptoms may arise more often when women are resting, or even when they're asleep. Mental stress also may prompt heart attack indications in women. Women under the age of 65, and particularly those with a family history of heart disease, need to give quiet attention to heart disease risk aspects.
Cardiology: Women's Health
Pregnancy-Related Cardiovascular Disorders
Prevention and Management
Session 9:

Cardiac Pharmacology
Cardiac Pharmacology deals with several crucial therapeutic targets within the cardiovascular system and the drugs utilized to combat cardiovascular disease. Cardiac medications are utilized to treat the cardiac, circulatory and vascular system. Various cardiovascular agents are offered to treat numerous cardiovascular situations. Sodium, potassium, calcium channel blockers. There are numerous forms of cardiovascular drugs on the market that contains cardiac glycosides, anticoagulants, antiarrhymic agents, anti-anginal agents and antihypertensive agents.
Novel Anti-inflammatory Therapies for Atherosclerosis

Molecular and Cellular Cardiology

Current Developments Session 10:

Cardiac Nursing
Cardiac nursing is a nursing specialty that operates with patients who face the ill effects of various states of the cardiovascular system. Cardiac nurses aid treat conditions such as precarious angina, myocardial infarction, congestive heart failure, coronary artery disease, cardiomyopathy and cardiac dysrhythmia under the title of a cardiologist Cardiac care nurses treat and care for patients with a range of heart maladies or conditions. This can integrate patients experiencing coronary vein sickness or congestive cardiovascular breakdown, or those recovering from angioplasty or bypass surgery. Cardiac care nurses screen the hearts of patients everything being equal, and may assist control heart medicines and perform pressure test evaluations all the time, or deal with progressively dire heart issues, aiding defibrillation. This sort of medical attendant performs intimately with a cardiologist to support quality care for heart patients.
Cardiovascular Nurse Care
Cardiovascular Nurse Education
Nurse-led Cardiovascular Procedures
Advances in Cardiac Nursing
Session 11:

Diabetes, Obesity and Heart
Diabetes and obesity are two essential modifiable risk factors for stroke. Patients with diabetes have higher rates of stroke and a poorer prognosis after stroke. Risk-factor modification is the most significant aspect of avoidance of stroke in diabetes and obesity. This involves lifestyle modifications and different therapeutic modalities to control circumstances, such as diabetes, hypertension, dyslipidemia and arrhythmia. Diabetes is curable, but even when glucose levels are under control it significantly increases the risk of heart disease and stroke. That's because of people with diabetes, specifically type2 diabetes, may have the subsequent conditions that contribute to their risk for developing cardiovascular disease:
Diabetes Mellitus and Stroke
Abnormal Cholesterol and High Triglycerides
Session 12:

Hypertension
Hypertension is an alternative name for high blood pressure. Blood pressure is the energy wielded by circulating blood against the walls of the body's arteries, the key blood vessels in the body. Hypertension is when blood pressure is extremely high. Blood pressure is recorded as two numbers. The first (systolic) number signifies the pressure in blood vessels when the heart contracts or beats. The second (diastolic) number signifies the pressure in the vessels when the heart rests between beats. Hypertension will be analyzed if, when it is evaluated on two different days, the systolic blood pressure readings on both days is >140 mmHg and/or the diastolic blood pressure readings on both days is >90 mmHg.
Market Analysis
World Market Analysis
The overall cardiovascular therapeutics market remains to see instant revolution with the latest drugs and devices emerging to the market. According to the cardiovascular market study professionals, diabetes is one of the key components leading to the recent cardiovascular disease outbreak. The expanding prevalence of recurring diseases such as diabetes is the foremost factor leading to the progress of the heart failure market. Due to the impending breakthrough of anew approved drugs entering the marketplace, heart failure market size is projected to expand in the forthcoming years.
The worldwide market for cardiovascular devices achieved nearly $42.4 billion in 2017 and should attain $59.1 billion by 2022, at a compound annual growth rate (CAGR) of 6.9% for the phase of 2017-2022. million deaths in Europe and over 1.8 million deaths in the European Union (EU). Moreover, other factors, such as the quick technological advances, improving awareness of the residents, and high-level preference for minimally invasive techniques are also enhancing the market growth. The cardiovascular disease market, which comprises numerous disorders like hypertension, cardiac arrest, dyslipidaemia, coronary artery disorders, and thrombotic events, is established to cultivate from $129.2 billion in 2015 to $146.4 billion by 2022, at a very modest compound annual growth rate of 1.8%, according to business intelligence provider GBI Research. According to the European Heart Network, each year, cardiovascular disease (CVD) initiates 3.9


Regional Market Analysis
The China cardiovascular devices market was estimated at USD 2837.61 million in 2018, and it is likely to reach USD 4468.02 million by 2024, with a projected CAGR of 7.86% during the forecast period, 2019-2024. The expanding prevalence of cardiovascular diseases and the growing elderly population are the extremely significant circumstances leading to the growth of the market.
China's population is aging at a quicker rate than virtually all other countries of the Asia-Pacific region, which is in part due to the long run of China's one-child policy and remarkable expansion in healthcare amenities. According to government assessments, the senior population may point at more than 450 million senior citizens, by 2050.
The aging procedure is commonly linked with enhanced vascular firmness and diminished vascular compliance. Elderly patients have an elevated risk of developing cardiovascular conditions, such as peripheral arterial disease (PAD), aortic disease, and venous thromboembolism (VTE). This is principally due to age-related adjustments in vascular structure and rigidity, further compounded by longer coverage to cardiovascular disease (CVD) risk factors. Additionally, other factors, such as the prompt technological advances, ever-increasing awareness of the population, and high-level preference of minimally-invasive processes, are also complementing the market growth.
CVD is not only the leading killer in the world but also the number one cause of death in China. In Beijing, the total loss of life expectancy due to CVD is projected at 317,813 person-years. That is, the loss of life per thousand persons is 24 person-years. Nevertheless, for critically ill patients, drugs have constraints. Under such as inherited defects, atherosclerosis induced by coronary artery disease, acute heart valve diseases, patients ought to be treated more than that. Interventional medicines include PCI, bypass, open-heart cardiac surgery, heart transplantation, etc.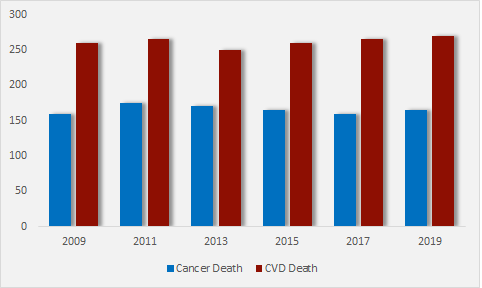 In supplement to total artificial heart, the supported artificial heart is more generally used. Three distinct kinds of devices, including left ventricular assist device (LVAD), right ventricular assist device (RVAD), Bi-ventricular assist device (BiVAD) three, are utilized for various cases and conditions.
Segmentation Market
Cardiovascular Drugs Market
o Calcium channel blockers
o Nitrates
o Pulmonary hypertension drugs market
o Systemic hypertension drugs market
o Angiotensin-converting enzyme inhibitors
o Angiotensin receptor blockers
Cardiovascular Devices Market
·

Cardiac rhythm management devices market
o Cardiac pacemaker market
o Holter monitor systems market
·

Cardiovascular catheters market
o Balloon catheter market
o Stent market
·

Cardiovascular monitoring and diagnostic devices market
o ECG devices market
·

Cardiac monitoring devices market
o Mobile cardiac telemetry market
·

Cardiac prosthetic devices market
o Mechanical heart valve market